www.
Best
Lube
USA
.com
Member of The Alquist Advantage Network of AMSOIL Dealers
---
Tired of High Gas Prices? Fight Back - Use AMSOIL Products
"If Everyone Would Use AMSOIL Products, Fuel Prices Would Go DOWN!!"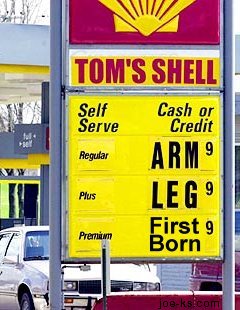 Fuel prices are at or near all-time highs in most areas of the country, and many people are looking for ways to save money on gasoline or diesel fuel costs.

For over thirty-five years AMSOIL products have provided solutions for high gas prices, to improve fuel mileage, and reduce operating costs; in fact, AMSOIL Products are Test Proven to increase your gas mileage up to 8.2%! This means that, if you drive your car or truck 12,000 miles per year and it now gets 20 miles per gallon, you can save $144 per year by switching to AMSOIL products, more if gas prices increase!!

So, you might ask: "How can AMSOIL products help you to fight the high cost of gas?"

1. Use AMSOIL Synthetic Engine Oils and Ea Oil Filters, you can extend your oil change intervals up to 35,000 miles or once a year! This translates into a savings of between $50 to $100 per year over conventional 3,000 mile oil changes, not to mention the inconvenience of having to waste your time sitting in a quick lube waiting for an oil change 4 to 8 times a year...

2. Clean your fuel system (gas tank and injectors) with one bottle of AMSOIL P.I. every 4,000 miles will help keep your car or truck running like new! Even so-called "Detergent Gasolines" are only required to have a minimum amount of additives in them, and they are not always effective, so use AMSOIL P.I. as added insurance... Test proven to increase gas mileage between 2.3% and 5.7%!!

For Diesel engines, use AMSOIL Diesel Fuel Concentrate with every fill-up to keep injectors clean and lubricate your fuel pump, especially with Ultra Low Sulfur Diesel (ULSD) fuel...

3. Replace your air filter with a free-flowing AMSOIL Ea Absolute Efficiency Air filter. AMSOIL Ea Air Filters not only improve air flow into your engine, but they remove up to 5 times more dirt and contaminants than OEM paper filters or up to 50 times more dirt and contaminants than wetted gauze filters. Also, AMSOIL Ea Air Filters are cleanable and re-useable: Just a light vacuum or a little shop air to blow the dirt off at least once a year, and you can reuse the filter for up to 4 years or 100,000 miles! No messy washing or re-oiling needed!!!

Diesel truck owners (DuraMax, PowerStroke, and Dodge Cummins) need to install an Injen/AMSOIL Air Intake System upgrade to improve air flow and performance...

4. Finish your tune-up with a fresh set of NGK Spark Plugs and Wire Sets to burn fuel completely...

5. Don't forget your car or truck's drive train! Automatic transmission owners should use AMSOIL Automatic Transmission Fluid, and AMSOIL MTF and MTG are available for manual transmissions. And don't forget about AMSOIL SevereGear Gear Lubes for the differential, and AMSOIL Greases for chassis lubes. Check the AMSOIL Online Product Selection Guide for the right fluids for your vehicle...

6. Use Mothers® Car Care Products to keep your car or truck clean! A clean vehicle always seems to run better, and reduces aerodynamic drag slightly for improved fuel economy!!! And to be safe in bad weather, put on a fresh set of TRICO Wiper Blades at least once a year...
"Know the Facts...AMSOIL Products Save You Money"
"Help Reduce our Dependence on Foreign Oil"
---
---
Copyright ©2008 AMSOIL INC. and Joe St. John